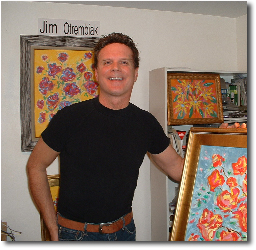 My first experience in art and oil painting was in grade school and  afternoon summer painting classes at the Pullman Park District. I fondly recall, "Mrs. Grennen, our grade school art teacher, always told us to paint our tree trunks purple!"
I spent my school years in Chicago and received a Bachelor of Science Degree at Loyola University. At Loyola, I took art classes with Juliet Rago in 1975, and subsequently through self study, painting for enjoyment.
In 1983, I moved to Cincinnati, Ohio. From 1983-1985, I joined an art co-op of 10 artists on Fourth Street, who called themselves Merchant Gallery. This group financed its own openings every month with member artist to coincide with the openings of Carl Solway Gallery and others on the street. In 1986, I was accepted as an active member of the Cincinnati Art Club. From 1992 to 1995 I was involved with Risch Gallery. I have been displaying in outdoor shows in Montgomery, Ohio and Louisville, Kentucky (St. James Art Show for 11 years). I have been involved with the J.B. Speed Art Gallery in Louisville and the Penrod Art Association at the Indianapolis Art Museum. Other associations were with Ralice Gallery, Kentucky Gallery, Suzanne Terrell Gallery, and Carnegie Art Center. Most recently I associated with Originalities in Hyde Park and Art on the Levee. My studio opened at the Pendleton Art Center in Cincinnati in February 2002, and is currently open to the public.  I also show at  Merchandise Mart in Chicago and Ft. Lauderdale.  A recent collector purchased at Market Art Hamptons where I had gallery representation in a show with international representation.   I have also show at Spectrum Miami,  Art San Diego, and Art Comes Alive.
My style reflects a modern impressionism of landscapes, still lives and abstract forms with a twist. Many ideas come from my travels to Canada: Nova Scotia, New Brunswick, Prince Edward Island, Newfoundland , and also Maine and the National Parks in the West, and Arizona through which I have hiked and camped. I take photographs and paint from the photo. My technique involves multiple layers of oil paint, drying in-between sessions, then finishing with "liquin" medium and wax. I enjoy Kentucky and Wisconsin landscapes and areas around Chicago. My favorite subjects include water scenes, leaves, gardens, and fountains, some of which are as close as my back yard. My favorite colors include purple aquas and reds. A typical observer will comment that my paintings remind them so much of familiar places. I prefer tranquil and quiet settings. I currently live with my family in Northern Kentucky and have my studio in Cincinnati, Ohio.   I have a twin brother and also specialize in pediatrics.  Finally I like to take ordinary scenes and embody them with new life and dimension, calm and warmth, with brushes, palette knives, and color.
for catalog see link below: